Pressure Washing In Northern Atlanta GA
About Platinum
One Soft Wash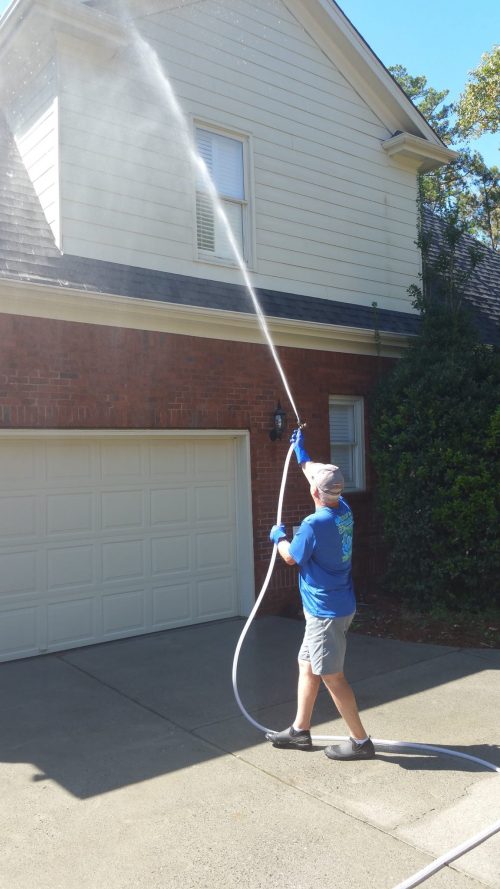 Platinum One Soft Wash is based in Canton, Georgia. We cover the Alpharetta area including Milton, Roswell, Marietta, Johns Creek, Sandy Springs, Kennesaw, Powder Springs and Cumming, GA.
Platinum One provides professional exterior cleaning services for residential and commercial properties. We only use the best and safest products from SoftWash Systems. Our cleaning solutions are bio friendly and safe for most exterior surfaces. By using low-pressure cleaning solutions, we can effectively remove dirt, grime, and bacteria without stripping the exterior of your property.
We offer reasonable rates and competitive pricing for all home owners, business owners, property management companies and homeowners associations.
Here are just a few of the cleaning services offered by Platinum One:
Residential cleaning: Increase your curb appeal by cleaning your home's exterior. Our methods reduce the chance of water penetration with low-pressure washing and rinsing.
Roof cleaning: Get rid of those ugly black streaks caused by algae growth and unwanted bacteria. Our softwash services can disinfect, clean, and restore your roof!
Exterior cleaning: Eliminate dirt and stains from your structure, fences, and decks with our softwash services! We can remove mildew, mold, moss, and other unwanted substances!
Driveway and sidewalk cleaning: Remove oil stains, chewing gum, and other eyesores from your pathways by enlisting our services! Our bio-friendly products can easily clean your surface.
Wood and Deck cleaning: Our soft wash services can restore the shine and smoothness of your wood surface and can be used on both painted and non-painted surfaces.
Commercial Exterior cleaning: An unclean business front can deter potential customers. Show your clients that you care about your business and image with a Platinum One exterior cleaning.
Rust Removal
Platinum One Soft Wash has the experience and training to handle the toughest rust stains. Even on delicate materials we can effectively remove rust stains from your home or business. When you have a rust problem developing on your property you can rely on Platinum One Rust Removal Services to resolve your dilemma.
Platinum One Soft Wash is a F9 Barc Authorized Applicator. If your property has been contaminated with rust stains you can depend on the Rust Removal Experts at Platinum One. Armed with powerful chemicals and pressure washing equipment, no surface rust can prevail for long against our technicians. F9 can remove rust stains from concrete, bricks, pavers, tile, stone, stucco, asphalt, vinyl, siding, shingles, rubber, sidewalks, driveways and more! Give us a call and see the difference a trained Rust Removal Expert can make!
Platinum One is your solution for exterior cleaning
Give us a call and a Platinum One expert can provide you with a cost effective estimate. You can also schedule a free no obligation consultation on our exterior cleaning services.
Ready To Increase Your Curb Appeal!?