Rust Stain Removal Alpharetta GA
Top Rated Rust Stain Removal In the Greater Atlanta Area
Rust Removal Northern Atlanta
Platinum One Soft Wash offers a service for the removal of rust stains. We service and remove rust stains in the Alpharetta area including Milton, Roswell, Marietta, Johns Creek, Sandy Springs, Kennesaw, Powder Springs, Canton and Cumming, GA. Platinum One can remove rust stains from concrete, bricks, pavers, tile, stone, stucco, asphalt, vinyl, siding, shingles, sidewalks, driveways and much more. Plagued by persistent rust stains? Then you should call Platinum One, the cleaning experts in rust removal.
Rust is the reaction of iron and oxygen in the presence of water. Rust stains are commonly found near water spigots outside your home or business. There are many areas where rust can develop if allowed to sit long enough. In some situations it can become very difficult to get rid of rust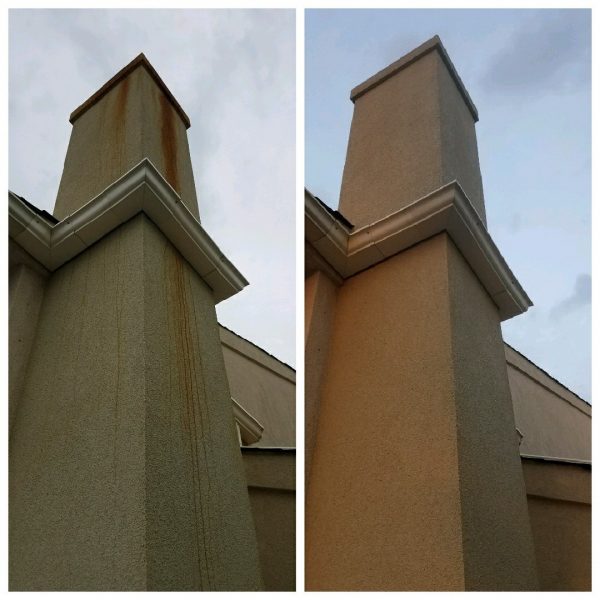 Platinum One has the experience, training and equipment to handle the toughest rust stains. Even on delicate materials we can effectively remove rust stains from your home or business. When you have a rust problem developing on your property you can rely on Platinum One for rust removal.
Platinum One is an authorized F9 Barc Applicator, the best rust remover in the industry. Armed with powerful chemicals and low pressure washing equipment, no surface rust can prevail for long against our experts. F9 is extremely effective in removing rust stains from concrete, bricks, pavers, tile, stone, stucco, asphalt, vinyl, siding, shingles, rubber, sidewalks, driveways and other surfaces covered with rust.
Trying to remove stains with a regular pressure washer will rarely remove rust. It takes expertise and powerful chemical solutions like F9 to successfully remove rust stains from concrete.
Platinum One Rust Removal
If your property has been contaminated with rust stains you can depend on our exterior cleaning experts for rust removal. Platinum One also offers maintenance plans for rust removal.
The longer rust stains are allowed to exist, the higher the cost of rust removal. Periodic rust treatments can save you a lot of money in the long term. Also, your building or home retains a clean appearance to make a favorable first impression.
Need Some Rust Stains Removed?
Then you should give the exterior cleaning experts at Platinum One. We would be pleased to provide you with a low cost estimate and schedule your rust removal. You can also request a free quote for Rust Removal below.
Rust Removal Alpharetta GA
Here's What You Can Count On
Ready For a Perfectly Clean Property?