Siding Cleaning Alpharetta GA
Top Rated Siding Cleaning In the Greater Atlanta Area
Platinum One Soft Wash offers siding cleaning services including aluminum siding in the Alpharetta area. Platinum One safely cleans your home siding without the exterior damage caused by hi pressure cleaning. We also clean aluminum siding. Platinum One offers economical eco-friendly services at competitive rates for siding cleaning.
Our cleaning service is available anywhere in the Alpharetta area including Milton, Roswell, Marietta, Johns Creek, Sandy Springs, Kennesaw, Powder Springs, Canton and Cumming, GA. Our fleet of trucks is equipped with an advanced low pressure cleaning system that delivers pristine siding cleaning.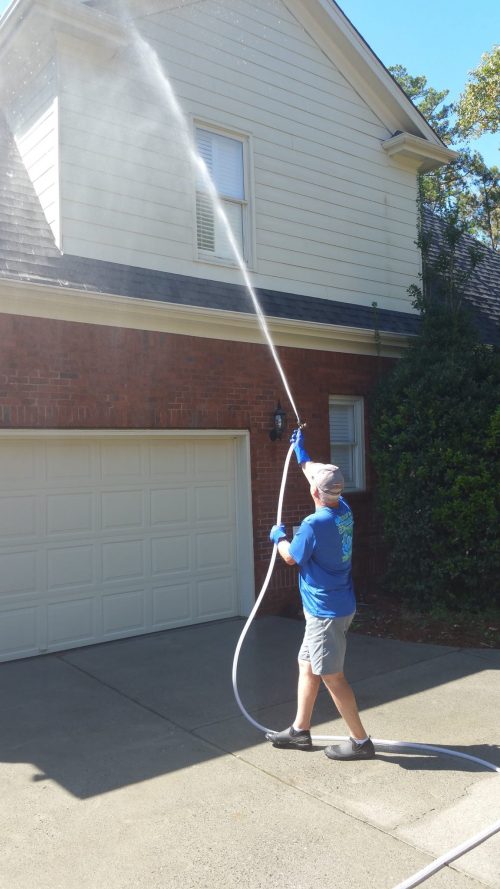 Why Siding Cleaning is Important
Over a few years, siding is contaminated with dirt, mold, mildew and other particles. There is no avoiding it. Siding is a strong structural part of your home. However, if you leave it dirty, particles will literally eat away at the base of your siding.
Our siding cleaning can save you money on future repairs and replacement services. A siding cleaning can save you money on future repairs and replacement services. Platinum One technicians use a detailed soft washing process to guarantee a safe and thorough siding cleaning.
Our Siding Cleaning Process
We start the siding cleaning process by rinsing your siding with an eco-friendly and bio degradable solution. Our experienced cleaning technicians mix a custom blend of this solution based on the amount and types of particles that need to be removed. Every house is different when it comes to siding cleaning.
This solution is safe around your family, pets and your home. We allow it to seep deep within your siding and eat away at the dirt, mildew and mold build up. Our professionals rinse this chemical and contaminates off your siding with a low pressured hose. This guarantees that your siding is sparking clean without causing damage to the structure of your home.
Increase your curb appeal
Curb appeal I is everything when it comes to buying and selling a home. If your siding is full of dirt and green mold it will repel buyers and affect the selling price. Platinum One can make the outside of your home look amazing.
Improve the appearance of your home with a Platinum One siding cleaning. Give us a call or request a quote on Siding Cleaning.
See The Difference We can Make For Your Home
Siding Cleaning in Alpharetta GA
Here's What You Can Count On
Ready For Perfectly Clean Siding?