Power Washing Johns Creek GA
Improve Curb Apeal with Power Washing Johns Creek GA
House washing with Platinum One soft wash Power Washing Johns Creek GA. Our business provides power washing services for commercial and residential customers in the Alpharetta area including Milton, Roswell, Marietta, Johns Creek, Sandy Springs, Kennesaw, Powder Springs, Canton and Cumming GA. We offer superior long lasting results at competitive rates on exterior house washing. 
Our Power Washing Johns Creek GA technology is far more effective than just using a pressure washer to wash or clean your house. While power washing removes the top layer of dirt and grime, it doesn't eliminate the bacteria below the surfaces of your house. When washing or cleaning the siding of a home, there are certain safety risks that should be considered. Pressure washing a home can result in damage to your home and your home's siding. Regular use of a high-pressure washer is not a good or safe technique for house washing. 
If you are planning to repaint your home exterior it is best to clean and purify the exterior surfaces of your house. You do not have to worry about bacteria and other growths instantly reappearing when Platinum One does your house washing.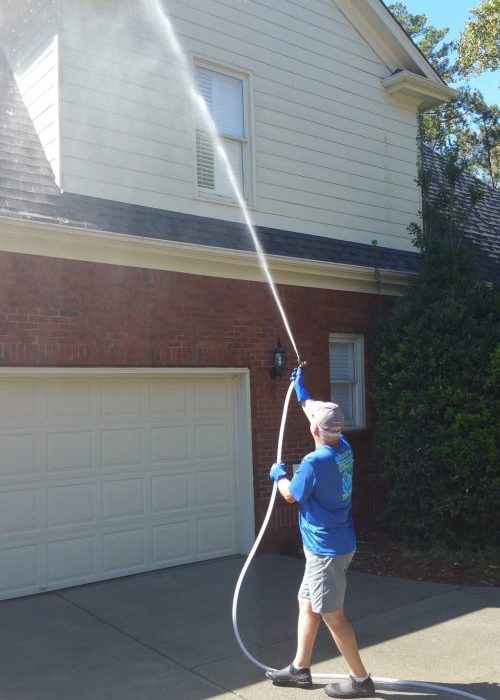 Power Washing Johns Creek GA Exterior Surfaces
Though you may think your house exterior is simply dirty, the discoloration you see on your siding, fence, and other areas is actually a combination of microorganisms. Algae, bacteria, mold, mildew, and fungus grow on surfaces, creating black, green, and-or red grime. These substances can be extremely harmful to maintaining the value and safety of your home or business. Platinum One can eliminate excess bacteria and mold to provide a clean finish to the exterior of your house with Power Washing Johns Creek GA.
We offer cleaning services for the following surfaces or types of house washing:
Siding Aluminum
Siding
Stucco
Wood
Concrete
Stone
Brick
Driveways
Slate and other surfaces
Siding Cleaning with Power Washing Johns Creek GA
Siding is a strong structural part of your house. However, if you leave it dirty, particles will eat away at the base of your siding. This can cost you more money in future repairs and replacement services. Platinum One Soft Wash can help you save money on these expensive repairs by offering you affordable services for house washing.
At Platinum One Soft Wash we use a soft washing process to safely clean the siding of your home without causing damage to the structure. We start our washing by rinsing your siding with an eco-friendly bio degradable chemical. This chemical is safe to be around your family and your home. We allow it to seep deep within your siding and eat away at the dirt, mildew and mold that has built up over the years. We clean the source of the problem when washing.
Our professionals then rinse this chemical and contaminates off your siding with low pressured cleaning solutions. This guarantees that your siding is sparking clean without causing damage to the structure of your house.
Various Materials We Can Wash
Stucco Power Washing Johns Creek GA
Stucco is not a smooth material. The different textures and small crevices are the perfect place for algae, mold, and dirt deposits to collect and spread. If you are thinking that using a simple pressure washer will fix your problem you should think again. A pressure washer can cause more damage than good to a material like stucco. That is why we provide our stucco washing services. If you want top quality results and the type of clean you'll notice immediately, then you should schedule a Platinum One house washing.
With stubborn stains on stucco, a Platinum One stucco soft washing and cleaning can restore your stucco's pristine finish, making it look as though you've just had it installed. With our extensive training and experience, we are able to custom-mix a solution for washing your specific exterior on site. Don't mask the situation with ineffective chemicals or regular pressure washing.
See The Difference Power Washing Johns Creek GA Can Make For Your Home
Power Washing Johns Creek GA
Here's What You Can Count On
Ready For A new Looking Home?